TBR: My #AsianReadathon List That I'm Probably Not Gonna Finish In One Month, Lest I Want To Be Emotionally Traumatized
Just like that, it's the month of May, aka Asian Pacific Heritage Month
! There are a looot of readathons popping up this month to encourage everyone to read more titles by Asian authors, and I am all here for it! I must confess that I haven't read a lot of Asian-authored books, and this is something I'm low-key ashamed about as a book blogger. I really should be recommending more diverse books, and I fully accept my responsibility and shortcomings in that. BUT, I believe it's the perfect time to change this as I join the #AsianReadathon by @readwithcindy, and #StanAsianAuthors by @nerdytalksbookblog and @kath_reads starting this May.
Supporting Asian Voices
As a Filipino woman, I feel very passionate about getting Asian voices out there in the world, in whatever field. On top of that, as someone who is very into books (like, create a blog about books levels), I feel even more driven to get people into supporting Asian authors. Especially knowing all the xenophobia that happens in publishing, distributing, and marketing stories by people of color.
Then, there's the whole thing about the increasing violence Asian people face all over the world due to the pandemic. We know about this from the news, social media, and just seeing how people are treated around us everyday. It sucks, and I do believe a big part of that has something to do with hate fueled by ignorance. Voluntary ignorance, in most cases.
Although I'm not naive enough to believe that reading Asian books alone will magically change the world, I do think supporting these books can make a difference. At the very least, it shows publication and distribution companies that YES, ASIAN BOOKS ARE PROFITABLE AND MARKETABLE.
Get them out there so more people can know.
I also believe just exposing one's self to other cultures just makes these "other" cultures not-so other. Sure, most of the books in this list are fiction titles, with some fantasy themes. But authors will always sprinkle in their culture into their work, may it be intentional or not. Just dipping into the worlds in Asian authors' imaginations could open up a world of understanding and appreciation for "foreign" experiences.
Asian Readathons
Now here we are–the real reason you opened up this blog post (thanks btw
).
TBH, I'm in a bit of a slow reading mood these days so I'm pretty sure I'm not going to finish all this in May, but it's a start! I also know that a lot of books in this pile are heavy and cry-worthy.. So IDK how I'm going to muster up the heart to go through all of them in a month. But hey, it's also Mental Health Awareness Month so I guess that still fits!
Alright, bring on the prompts and the recs…
A Book Written by an Asian Author: THE MEMORY POLICE by Yōko Ogawa
Synopsis:
Hat, ribbon, bird, rose. To the people on the island, a disappeared thing no longer has any meaning. It can be burned in the garden, thrown in the river or handed over to the Memory Police. Soon enough, the island forgets it ever existed.
When a young novelist discovers that her editor is in danger of being taken away by the Memory Police, she desperately wants to save him. For some reason, he doesn't forget, and it's becoming increasingly difficult for him to hide his memories. Who knows what will vanish next?
Read full synopsis here.
Comments: I am actually sooo intrigued about this title, and I'm excited to add in some mystery in my TBR set in an Asian country.
A Book Featuring an Asian Protagonist: PATRON SAINTS OF NOTHING by Randy Ribay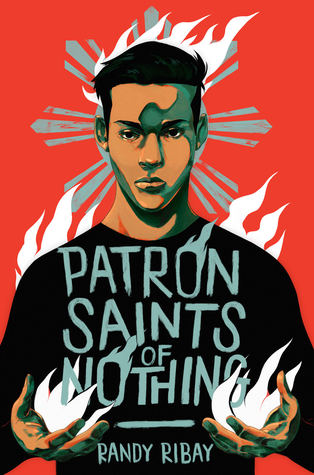 Synopsis:
Jay Reguero plans to spend the last semester of his senior year playing video games before heading to the University of Michigan in the fall. But when he discovers that his Filipino cousin Jun was murdered as part of President Duterte's war on drugs, and no one in the family wants to talk about what happened, Jay travels to the Philippines to find out the real story.
Read full synopsis here.
Comments: This has been sitting unopened on my shelves for SO LONG I'm actually ashamed. We're hit close to home with this one, and I'm honestly ready to feel the vibes.
A Book by an Asian Author in my Favorite Genre: POPPY WAR by R.F. Kuang
Synopsis:
When Rin aced the Keju—the Empire-wide test to find the most talented youth to study at the academies—it was a shock to everyone: to the test officials, who couldn't believe a war orphan from Rooster Province could pass without cheating; to Rin's guardians, who always thought they'd be able to marry Rin off to further their criminal enterprise; and to Rin herself, who realized she was now finally free of the servitude and despair that had made up her daily existence. That she got into Sinegard—the most elite military school in the Nikara Empire—was even more surprising.
But surprises aren't always good.
Read full synopsis here.
Comments: Of course there needs to be a strictly fantasy book here. Am I ready? I don't think I am, and I'm honestly TERRIFIED because, though I've heard great things about this, I also heard it's pretty heartbreaking. Good luck to me.
A Nonfiction Book by an Asian Author: DEAR AMERICA: NOTES OF AN UNDOCUMENTED CITIZEN by Jose Antonio Vargas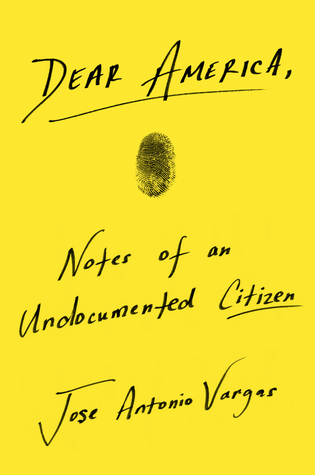 Synopsis:
"This is not a book about the politics of immigration. This book––at its core––is not about immigration at all. This book is about homelessness, not in a traditional sense, but in the unsettled, unmoored psychological state that undocumented immigrants like myself find ourselves in. This book is about lying and being forced to lie to get by; about passing as an American and as a contributing citizen; about families, keeping them together, and having to make new ones when you can't. This book is about constantly hiding from the government and, in the process, hiding from ourselves. This book is about what it means to not have a home.
After 25 years of living illegally in a country that does not consider me one of its own, this book is the closest thing I have to freedom."
Read full synopsis here.
Comments: There are so many undocumented Filipinos in America, as far as I know. I obviously have no idea about the experiences that come with that, but I imagine it's all very harrowing. IDK how I'm going to get through the emotions in this book, but challenge accepted!
A Book by an Asian Author that is not US-centric: NEVER LET ME GO by Kazuo Ishiguro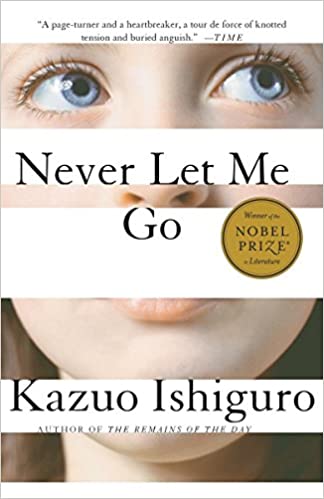 Synopsis:
As children Kathy, Ruth, and Tommy were students at Hailsham, an exclusive boarding school secluded in the English countryside. It was a place of mercurial cliques and mysterious rules where teachers were constantly reminding their charges of how special they were. Now, years later, Kathy is a young woman. Ruth and Tommy have reentered her life. And for the first time she is beginning to look back at their shared past and understand just what it is that makes them special—and how that gift will shape the rest of their time together.
Read full synopsis here.
Comments: I've actually already watched the film adaptation of this, so I'm already 100% sure it's going to wreck my heart.
Conclusion: I'm not gonna be okay
As I alluded to before, all the titles on this list are p heavy, and will probably leave me emotionally-scarred. But for some reason, I'm kinda looking forward to it.
If, by the half point, I already feel like I can't finish through the list in one go, I'll probably add some lighter themes in there and go back when I feel better. That's really why I don't want to restrict myself to finishing everything in May because my mental health's probably not going to survive it.
I really want to read these books, though. So wish me luck, please.
See you guys on the other side!