Hiding in Bed While Publishing this Bc 'From Blood & Ash' Is Really Not the Amazing Fantasy Romance it's Hyped Up to Be
If you haven't read this book and you REALLY want to go in unbiased, maybe skip this review for now because I'm not going to be able to give you that. There are loads of other reviews praising this series online, and this isn't going to be one of that. In truth, I really wanted to like From Blood and Ash (#1) by Jennifer L. Armentrout. Almost every post I saw about this series was amazing and eager to share their excitement, and I wanted to feel that too!
Though I have a few friends who were less enthusiastic about it, it was mostly about the confusing world building and the plot's classic recipe for this trope. But I didn't even notice those aspects that much out of annoyance with what was happening in front of me. 🙃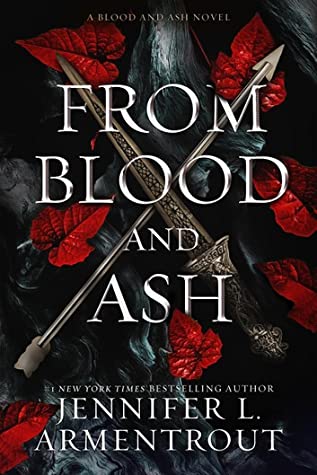 From Blood and Ash Synopsis
A Maiden…

Chosen from birth to usher in a new era, Poppy's life has never been her own. The life of the Maiden is solitary. Never to be touched. Never to be looked upon, never to be spoken to, never to experience pleasure. Waiting for the day of her Ascension, she would rather be with the guards, fighting back the evil that took her family, than preparing to be found worthy by the gods. But the choice has never been hers.

A Duty…

The entire kingdom's future rests on Poppy's shoulders, something she's not even quite sure she wants for herself. Because a Maiden has a heart, and a soul. Longing. And when Hawke, a golden-eyed guard honor bound to ensure her Ascension, enters her life, destiny and duty become tangled with desire and need. He incites her anger, makes her question everything she believes in, and tempts her with the forbidden.

Read the full synopsis on Storygraph here
Review
This is probably the first time I'm writing a full review for a title I did not like (and the majority of the community did), so I'm feeling a little anxious about it. But it also wouldn't be fair to me or anybody else out there if I sugar coated this just because everybody else's loved this series.
So here we go.
The main things I did not like about From Blood and Ash was the technical writing, and the characters. I'd like to blame my age (24!), as I feel like I'm too old to enjoy this blindly and not see the red flags. I've also read A LOT within the romance/fantasy space that use the same tropes, so I already know what I like and don't like about the sub-genre. Unfortunately, majority of this book falls in the latter category.
Writing Style
I'm not an expert, by any means, but though the writing in FBAA is accessible and easy to understand, it honestly feels like a first draft 😬. Majority of this book is told through Poppy's inner monologue and it's very intrusive and dragging at times.
Intrusive, because she'd have an opinion on–I kid you not–EVERY piece of dialogue from the people around her. Anything she overhears, sees, what people tell her, and even her own dialogue. There's a comment after every single one. There are also instances where an action occurs, Poppy gives about three paragraphs-worth of context, and then the action continues. By then I've either lost interest over what's happening, or I'm too eager to find out what happens next that I skip so much.
That's also where the dragging part comes in. There are whole chapters that are 80% Poppy's inner monologue, and 20% actual dialogue and action. This book has a lot of Poppy's introspection. And there are things she thinks about several times so you can expect a few more paragraphs about it again in latter chapters.
From Blood and Ash also leaves no room for interpretation. It offers everything on a silver platter, and details everything out for readers to absorb. It kind of takes the fun out of the experience when even the tiniest details (that could be easter eggs) are explained so thoroughly.
I'm sure JLA and her whole team of proof readers and editor worked hard on this so I don't want to say any more. It's just really not for me.
Characterization
Is it just because Poppy's inner monologue is the narration so I also didn't like her as much? Possibly.
In all fairness, Poppy does have some character growth in this first book. In terms of her making decisions for herself, and standing her ground. But she hasn't matured in her romantic feelings for Hawke at all.
Now, I already went into this book with the mindset that "okay, this is a romance set in a fantasy world." So my expectations for world building, plot, and magic/combat were very low. It helped me turn a blind eye on those lacking departments, but it also highlighted the romance problems.
To fully explain this, I need to talk about my problems with Hawke first. I honestly, hand on heart, hate Hawke. I find him arrogant (as someone who enjoys reading "bad boys with a heart", that's saying something), and he doesn't understand consent. More on that later.
With all that in mind, I don't see how the two could genuinely be "in love." I understand the lust, especially for Poppy as she's so sheltered and this is her "awakening", per se. But I don't see how that could translate to real love between the two. They barely had any decent conversations! And for Hawke who virtually can choose anyone, I don't know what he sees in Poppy. And that's nothing against her, it's just that there was barely anything shown to really solidify why there was interest, and eventually, love there.
Hawke
Lastly, I want to talk about consent real quick. Something Hawke and his friends don't seem to understand at all. My biggest problem with Hawke is that he NEVER listens to Poppy's words, even after delivering speeches about how she doesn't have any freedom as the Maiden. He says that, and then turns around and does the same thing with her. And it happened so many times!
The first time they met, Hawke was immediately all over her, even after finding out she wasn't who he was expecting. Yes, in Poppy's mind she wants him, but out loud she's saying the total opposite. Hawke never respected that. In the third act, when Poppy was mad at him for something and didn't want him to touch her, he didn't listen. He constantly used the "I know you want it" argument, as if that makes it perfectly fine to ignore her NO's!
I know so many people LOVE Hawke and Poppy's relationship, but I'm honestly concerned. This isn't the picture of a healthy relationship. It's non-consensual. If we weren't reading Poppy's inner turmoil and was just aware of her refusals, this is straight up harassment. I didn't find the steamy scenes romantic, hot, or remotely fun at all because of that context.
(I fully recognize that it's possible that my other romance favorites in fantasy have the same problem. Especially ones I've read years ago. But as a 24-year old, with more awareness about boundaries and consent, I can only speak for this particular title with the awareness I have now.)
Final verdict: From Blood and Ash
In my most humble opinion, I don't recommend From Blood and Ash. There are a lot of other options for hot and steamy fantasy books that are genuinely founded on a good relationship OUTSIDE the smut. And many who don't have a leading man who won't take no for an answer. Yes, there was a scene where Poppy was begging Hawke to touch her and he refused. But that was after he said completely inappropriate things to her. AND IT WAS ONE TIME! 🤡
I can't say much in terms of the plot and world-building because it really wasn't what I was focusing on. I will say, though, that I guessed many of the supposed big "plot twists". Again, probably because all the information was served on a silver platter. And Poppy usually fixated on the "little hints" anyway, so as a reader, my mind naturally bridges the gaps alongside her.
Saying these things about a book that's so beloved makes me cringe, but I really feel like I have to. If you enjoyed this book, good on you for finding a book you really like. But I'm sorry to say that I don't share the love 😩.
I have until Book 2 of this series, Kingdom of Flesh and Fire, and I will read up to that point. But unless things magically take a turn to my liking, I won't be continuing this series. I could work with the writing, but unless Hawke makes some serious reformation, I'm out.